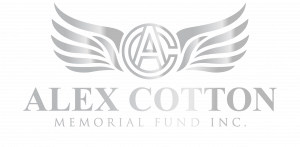 A 501(c)(3) Non-Profit Organization
Alex Cotton Memorial Fund, Inc. was created in honor of Alex Cotton who passed away from Stage IV Pancreatic Cancer in July 2020. Alex's family and friends are committed to keeping his legacy alive, raising awareness for pancreatic cancer, and making a difference in the lives of patients and families battling this disease.
Instructions:
Complete the following application and submit it along with the release form below to verify the patient's diagnosis to:
Email: alexcottonmemorialfundinc@gmail.com OR
Mail to: Alex Cotton Memorial Fund, Inc. P.O. Box 792, Wilbraham, MA 01095
Eligibility:
In order to be eligible for financial assistance you must:
Have a diagnosis of pancreatic cancer confirmed by your attending oncologist/physician or case manager/social worker
Be in active treatment for your pancreatic cancer diagnosis
Be a U.S. Citizen with proof of residency in the state of Massachusetts
Please note: Financial Assistance is subject to availability. Review, consideration, and verification of application details may take 4-6 weeks.